ANMERKUNGEN
Keine Notizen
BEDIENUNGSANLEITUNG
PAY BY PROVIDER
Customers of Mobility Service Providers can pay directly via their contactless cards or tokens for tap-and-go payments. Most services also offer smartphone apps for payment. Simply open the app, authorize payment, and go. If IONITY is not available from your mobility service provider of choice, let them know it's time to join our network.
PAY BY PHONE
All IONITY charging stations offer quick, seamless, on-the-spot smartphone payments via mobile browser. Simply scan the station's barcode, enter your details, and authorize payment. Access as a guest, or register your payment details so all your future payments are as easy as scan-and-go.
Or simply trigger the payment process right now by clicking on the button below. Just be sure location-based services are activated on your smartphone.
Stecker / Steckdosen
FOTOS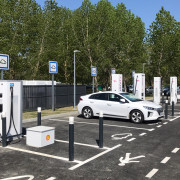 BEMERKUNGEN